It's strange to think that in ten days' time (as I publish) we'll be closing out the fourth bank/public holiday of the year that we've not actually all been allowed out to celebrate.
It's strange as well to look at my diary and see only birthdays, as various events are cancelled or re-arranged.
Of course, it's like this for many people, even those who still have the daily grind of the 9-to-5 to look forward to when not home-schooling the little darlings. But if like me you have not much to wake up in the morning for, the four-weekly haircut and the six-monthly dental appointment take on new meaning.
And boy, do I need a haircut. Haven't had one for NINE WEEKS now, with at least a further seven to go.
Back when I first became self-unemployed I made a small list of Things To Do before I started my Very Important New Job that was bound to come my way after a few months.
Ahem.
One of these was the revisions to the family tree web site, which never really got started as I kept changing things around. So I started again, uploading around 60 people to the site. Then I kept distracting myself by going to Find My Past and using my consummate research skills to find yet more ancestors and their siblings.
I always feared that completing the family tree web site would mean I had truly run out of things to do, which might be why I kept putting it off. Can't really do that now as there really is nothing else left to do… apart from apply for whatever jobs there are out there, along with hundreds of other people (says LinkedIn).
But, just to rub it in, I applied for a job with an interview date mentioned in the advert. I've written before how much I dislike such adverts. "We'll let you know if you'll be called up for an interview," said the drearily generic HR Team email response. The interview date is Monday… so unless the HR team is working over the weekend I think we can rule this one out.
Pity. I do have a gap in my diary, after all.
Circle of life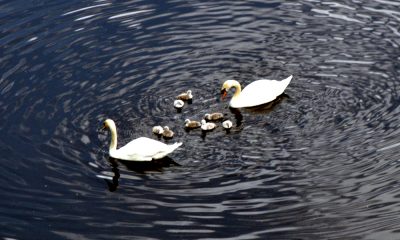 But then, I pulled back the blinds this morning to see that the swans and cygnets were taking to the river for the first time (so they must have hatched two weeks ago). Eight of the little bundles of fun.
Funnily enough, a family of ducks swam down the river earlier in the week. Eight ducklings there as well. But no photo, as they were too far away. Haven't seen them since, probably because the male swan kept chasing after them. Haven't seen the baby swans since this morning either. Hoping they all come back tomorrow afternoon – the camera is charged and ready. This one from seven floor up will have to do for now.