In one of those quiet moments, I started to wonder what a map of closed railway stations would look like. A typical example of why I don't like "quiet moments".
Four years ago, when I was trying to get a handle on Rail North's geography, I plotted all the stations called at by both franchises on a Google Map. That evolved into the All GB Stations and Patronage Figures map, which I'm so proud of you can find it by clicking or tapping on the green icon in the menu bar, then on the train icon.
There's a lot more to read below, but I know what some of you are like, so here's the link: Open & closed railway stations in Yorkshire. Eleven-ish days well spent, I'm sure you'll agree.
Caveats
Let's get the apologies out of the way first, shall we?
By 'Yorkshire' I mean the Yorkshire which existed between 1 April 1889 and 31 March 1974 – not the 'historic' county, which frequently split towns in two (such as Todmorden). So Middlesborough, Greenfield and Barnoldswick are in, Walsden is out. Finningley station, just south of Blaxton in Yorkshire, is included although Finningley itself was mostly in Nottinghamshire. That might annoy the purists, but Todmorden station isn't in 'historic' Yorkshire, and only half the town was. It looks daft to me that way.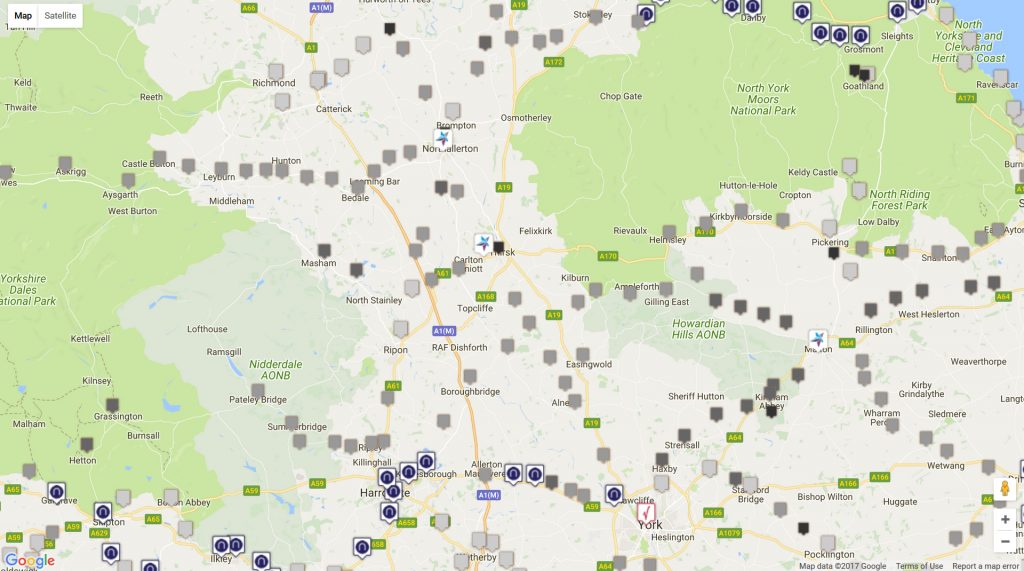 Nevertheless there are bound to be errors around the edges, and probably some omissions as well. Something for the next revision (although I've made three updates since first writing this post). Unfortunately I haven't found a .kml file with the post-1889 borders to add for reference, just the 'historic' boundary. I'll keep looking.
The whole map is compiled from secondary sources, I haven't gone to each site with a GPS tracker. Quite apart from the time and effort involved, some of the sites are inaccessible because they're private residences or on private / railway land. One station is under the A650, another under the A19 and a third under the eastbound carriageway of the M62 near South Cave, so they were out as well.
That means relying on other people for accurate coordinates, opening and closing dates and even names in some cases. Yesterday I discovered a missing station called York Junction, which was actually Gascoigne Wood… which was also missing.
Method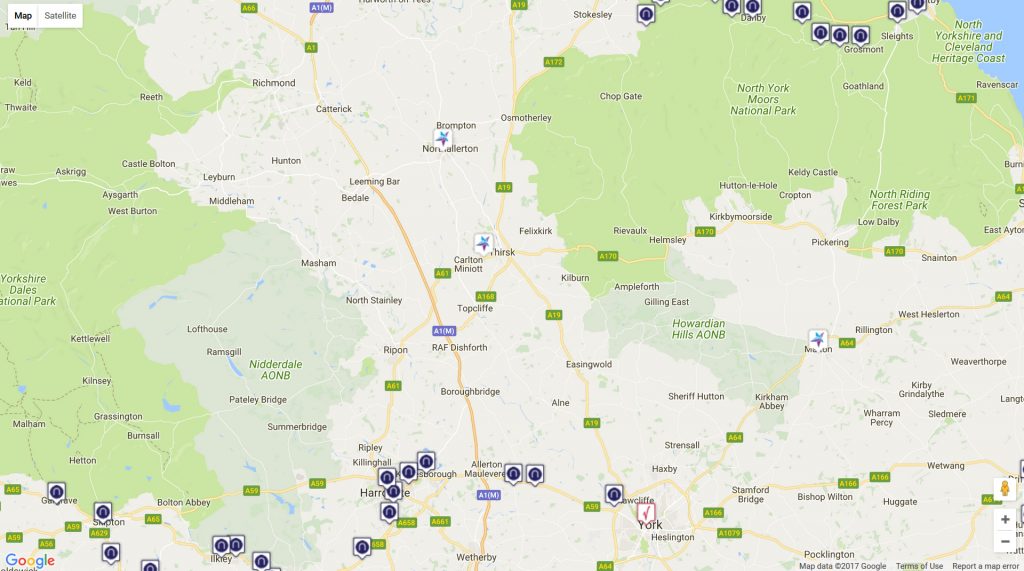 Wikipedia is helpful up to a point, but not every former station has an entry, so I have had to do some investigating, looking at enthusiast sites, comparing Google Maps with old Ordnance Survey map extracts which are also online. And sometimes I took a wild stab in the dark, based on where I thought a station might be and any close road access – 'Station Road' often being a good clue.
Not all closures are equal, of course. Some stations closed within years of their opening; these have the smallest pins in the map. Some were closed after the Big Four grouping in 1923 (slightly larger pins). British Railways closed quite a few after 1948. Then there the post-Beeching closures, from 1964 onwards. By my calculation, British Railways closed more Yorkshire stations (246) than Beeching (135), which might come as a surprise to many. There's 183 open stations.
I also decided to exclude stations which were closed and immediately replaced. So no Bradford Exchange, as Bradford Interchange is the obvious successor. No Leeds Wellington / City North or Leeds New / City South as they both formed parts of the present Leeds (Leeds City). But Leeds Central closed and its services diverted to City, so it appears. Stations which passengers couldn't use, which were workmen's halts or which were excursion stations and not shown in timetables aren't shown. I need to do more research on things like light railways but they're all excluded for now (I think). New stations on preserved lines are not included.
Version Two
What comes next?
Well, I could add the opening dates to the currently open stations, some of which were reopened on or near-enough the same site as a closed station as makes no odds. Those pins definitely need improving. I could try and map the actual railway lines, or add an extra column to the table to make a separate map showing which closed stations are on lines which are still open.
Let's be honest, it is a bit of a data dump at the moment; find it, map it, move on. But looking at it, it is worth thinking about how different the tourism and business economies of places like Ripon and Market Weighton might have been if their lines and stations had survived into at least the mid-1970s.
24 August Updated totals (above) and map because I missed out Boosbeck.
25 August Updated again because I hadn't spotted five stations in the north-north-North Riding. Also tried to do something with the pins. This is my life now.
26 August Updated again because I missed out two near Rotherham, and several stations around Saddleworth & Diggle, including Greenfield. Must. Stop. Now.